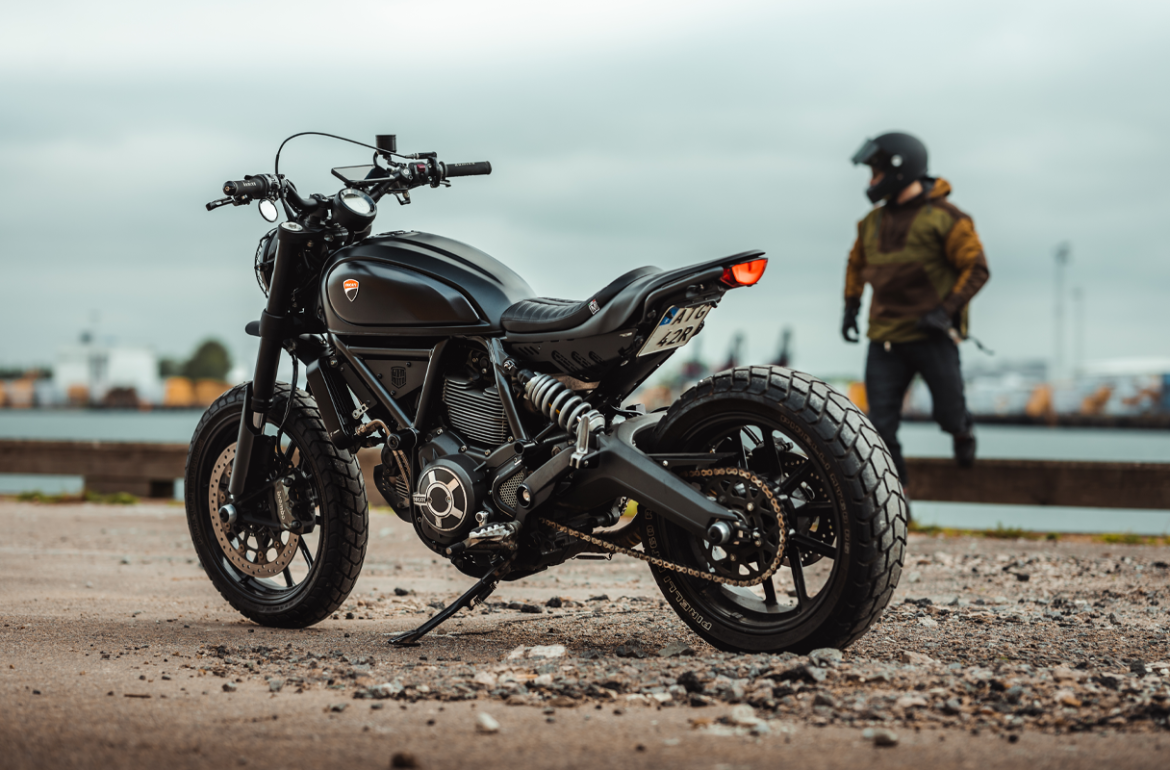 Ducati Scrambler
Full Throttle
2016
The Scrambler was bought in California as my daily commuter and adventure machine during our stay in the states. When time came to move back I just couldn't get my self to sell it and it got shipped over and imported to Sweden.
The back story on why and how is as follows..
The first thing that I did was to order seat and seat panels from Mugello Shop in Thailand that makes some serious nice looking seats for the scrambler line up. For the exhaust I wanted something that made the bike both look and sound a bit more muscular. The Competition Werkes exhaust tucks in just under the passenger footage mount and doesn't make the bike look stretched out as some of the other brands do and it sounds heavenly. And paired with a K&N filter it breathes a little bit easier also. The bars are WRP x Bar America and was selected for a couple of reasons, first was ergonomics. They are narrower than OEM bars but almost the same height and pullback but they also have the crossbar that just adds that little extra look.
All decals, reflectors and other bits got cleaned off and for tank badges I found some Ducati shield logos that worked perfectly and added to the minimal design. The mirror is a single sided under the bar solution using a Ebay bar end mirror that clamps perfectly around the bar and really cleans up the bars.
Indicators are Motogadget M-Blaze Pin's both front and back, they are the smallest but also the brightest indicators I've ever seen. The tail tidy is from NRC (New Rage Cycles) but some extra brackets where fabricated to hold the indicators next to the tail light.
To complete the more rugged adventure look I side pannier plates form Kriega was used and also a Rotopax mount added to the left side to hold an extra 1 gallon fuel tank. Engine guard and sprocket cover from Evotech and a black high fender that is an OEM Ducati part that was sold as long as the Urban Enduro was in production, no where to be found now sadly, all adds to the rugged expression.
There are so many small parts here and there that also been changed or painted to achieve the effortless, minimal look that was the goal. I really wanted it to look like it's factory and not obviously "custom", everything in it's place and when you look at the bike nothing should stand out as odd or not fitting it should just feel right. But at the same time it's a bike that I'm not afraid of getting dirty and used, it's my commuter bike and weekend get away machine all in one..

Rizoma Wheel axle protection
Pirelli MT60 RS, with white lettering (Tire Penz Pen)
17″ front wheel (CR edition)(Black)
AEM Tripple tree (Black)
Mugello Custom High fender kit
Ducati larger fork protectors
Headlight grille
Painted Headlight Ring (Black)
Motogadget M-Blaze Pin indicators
Rizoma Indicator Light Adapters
Corsa Moto Turn Signal Harness Ducati Scrambler 2015-2019
Brembo Radial Master cylinder 16×18
Rizoma Front Brake Reservoir
Puig clutch lever 2.0
Rizoma Riser Kit (with Gauge Bracket)
Painted Speedo Gauge Ring (Black)
Renthal 814 handlebars, Black
Domino MotoGP Grips
Rizoma Bar Ends – Series 531
G2 Throttle Tamer Ducati
Quadlock Handlebar Pro Mount
2″ CRG Blind Spot Mirror with custom made stem
Rizoma Gas Cap (Black)
Rizoma Engine / Fairing Guards "B-PRO"
Rizoma Cooler Covers (right/left) (Black)
BMG under tank side panels
AEM Belt Covers
K&N DU-8015 Air Filter
Ducati Tank Emblems
Evotech Performance Ducati Scrambler Engine Guard Protector (Black)
Evotech Performance Sprocket Guard
Mugello Custom -Slim Flat Racing Seat
Moto Play – Side Frame Covers (L+R) (Black)
NRC Fender Eliminator Kit
Rizoma Oil Filler Cap
Ducati Desert Sled Footpegs
Mugello Custom – Chain Guard
D.I.D. 520 CHAIN (Gold/Black)
Competition Werkes Slip On Exhaust (Black center)
Painted Exhaust Heat Shield